Maxichill is your local supplier and installer of commercial cold room & cool room refrigeration on the Gold Coast. Expert technicians, premium products and second to none service. Maxichill is the Gold Coast's preferred commercial refrigeration specialists.
MaxiChill is a professional team of qualified technicians with many years of experience behind us. Unlike many other technicians in the industry, our clients experience a personalised service where we take the time to understand you, your site requirements and your equipment.
We're so confident in our services and products that we offer an incredible 12-month warranty on all completed jobs.


Commercial Cool & Cold Room Refrigeration
We understand that equipment that is faulty or inefficient can cost you time and money. That's why we respond and get out to you as promptly as possible and work efficiently to make sure your downtime is minimised. Commercial refrigeration is critical for many types of businesses including restaurants, take-away food outlets, cafes, wine bars, bottle shops, clubs, hotels, butchers, fishmongers, bakeries, florists, health food shops and pet stores.
Commercial refrigeration comes in many different configurations and types including cold rooms, under bench fridges, upright, bar systems and stand-alone refrigeration units. We can provide you with new or refurbished equipment, we can install the equipment for you, we can service your refrigeration equipment and we can repair your refrigeration equipment.
Don't wait for your refrigeration equipment to fail. Repairs are almost always more expensive than prevention maintenance. We have developed our own formula to make sure that your refrigeration equipment doesn't let you down.
Our Cold Profit Specialist formula is simply Reliability + Efficiency = Profit.
Increased reliability means less downtime due to faulty equipment. We have developed a preventative maintenance program with the primary goal being for you to avoid the consequences of equipment failure. We guarantee that you get the best quality parts, with a 12-month warranty.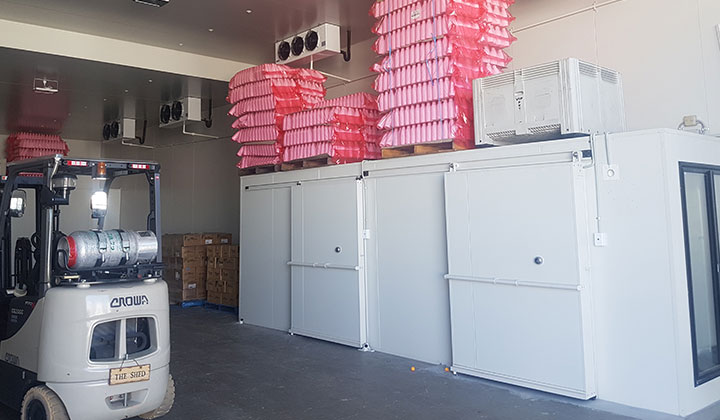 Commercial Cool Room Installation
The options for business owners can seem overwhelming when it comes to Commercial Cool Room Installation. Commercial Cool Room Installation can have a significant impact on your business's efficiency and profitability. At Maxichill, we are committed to working with you every step of the way to provide you with long-lasting results in order to deliver the most accessible, sustainable and high end quality solutions.
With broad knowledge and a great understanding of the hospitality industry, we can help make these tough decisions easier. We can help guide you through, from start to finish, with a tailored Commercial Cool Room Installation to satisfy your business needs.
We do cool room installations, cool room maintenance, cool room repairs and 24/7 emergency repairs.