Maxichill offers 24/7 commercial refrigeration repairs on the Gold Coast to Tweed Heads. From complete breakdowns to temperature problems, we have the right tools, industry experience, and expert skills to diagnose and fix virtually any problem you might have with your refrigeration equipment.
All of our commercial refrigeration repairs Gold Coast services are carried out using the best quality parts available and we always provide a 12-month warranty on all work that we do.


With our reliable repair service, it is our aim to provide all of our customers with the most seamless and first-class quality service experience possible. All of our commercial refrigeration Gold Coast technicians are highly skilled and qualified to provide a wide range of commercial refrigeration repair solutions and strive to uphold the highest degree of professionalism.
We greatly value your time and endeavour to make the whole experience as smooth and hassle-free as possible. In order to determine the exact problem and make informed choices, we start by measuring and testing your equipment's efficiency. 
Our solutions are designed to ensure that for years to come, your commercial refrigeration equipment runs as smoothly & efficiently as possible.
Commercial Refrigeration Sales
If you're looking to replace your refrigeration or purchase new refrigeration, we can help! Our expertise in different types of refrigeration means that we can assist you with the right configuration for your business. 
We sell both new and refurbished Gold Coast refrigeration equipment so whatever your budget, we can help you make the most suitable purchase choice.  Maxichill also provides the installation of commercial refrigeration equipment for your business.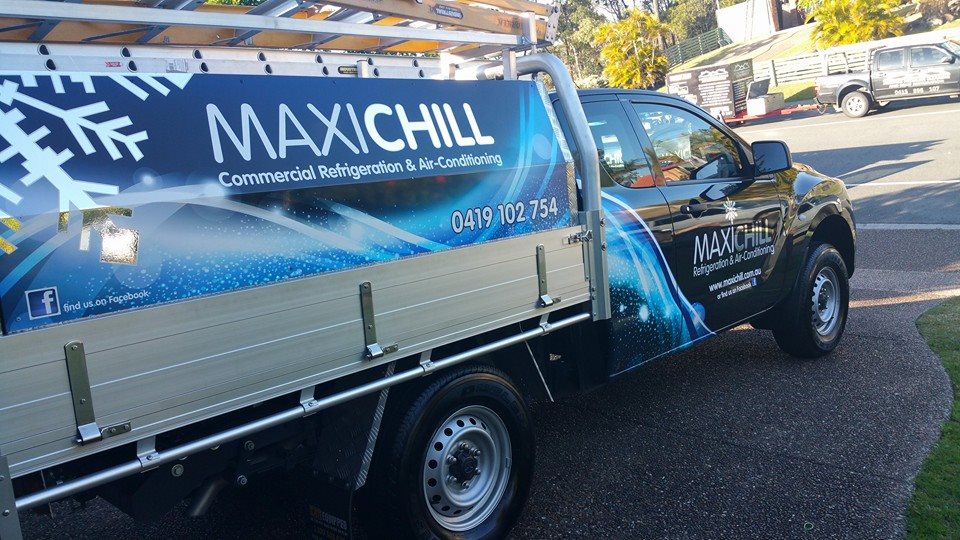 Commercial Refrigeration Service
Refrigerators are hard working pieces of equipment and as such, they should be serviced regularly in order to keep them working efficiently and avoid any major operational issues.
Commercial refrigeration should be serviced at least once every 6 months for new equipment and once every 3 months for older equipment. Where necessary, Maxichill's expert team also perform commercial refrigeration repairs using quality replacement parts as well.
The team at Maxichill understand that you are too busy to stay on-top of maintaining your refrigeration system. That's why we create individualised plans and schedules with our clients to maintain vital cool room and refrigeration equipment. Some of the things we service include;
Assessing defrost system performance
Electrical components and safety
Motors and moving parts
Door seals
Insulation
Fan blades
Filters
Refrigeration fluid levels
We will have your cooling equipment working again with minimal downtime and disruption to business. For the very best in Commercial Refrigeration Repairs Gold Coast, speak to the team at Maxichill today!


Commercial Refrigeration Repairs Gold Coast
More often than not, there are several tell-tale signs to signify that your refrigeration equipment needs repairing, servicing or replacing. When that time comes, Maxichill is here to assist you!
When your refrigeration equipment begins to malfunction, you know it's time to call a commercial refrigeration mechanic.
Typical signs include:
Increased energy bills

The presence of puddles of water underneath the equipment indicates a possible leak

Building up of ice on the exterior of the unit

Temperature that significantly increases or decreases

When a door doesn't close properly & causes food to thaw due to rising temperatures

The compressor may be on the verge of failure if there is a loss of noise
Speak to our friendly team today to organise a consultation.
Commercial Refrigeration Alarms
For peace of mind, we can install an alarm system to one or more of your refrigerators. The alarm works by letting you know exactly when your refrigerator fails or when your equipment requires maintenance.
The alarm system can be monitored by you at any time of day or night, in real-time via a smartphone app. We can also set it up to alert us here at Maxichill if the temperature in your refrigerator drops suddenly or if there is a fault or breakdown.
Contact us today for all your commercial refrigeration repairs and service needs on the Gold Coast, Tweed Heads and Mount Tamborine.